Build Your Dream Floor With:
CONCRETE POLISHING Services in Fort Collins, CO
Owner Operated, Free On-Site Sample!
With over 15 years of experience AND RELIABILITY in the construction industry
Concrete Polishing is the expert you need to take care of your home or business. We handle everything involving concrete polishing. We will treat your home as we would treat our own. Give Concrete Polishing of Northern Colorado a call today, we look forward to working with you!
Why Should You Consider Concrete Polishing
Concrete flooring is expanding its borders…
Concrete floors deserve better treatment than just being walked on. We can transform dirty, grey concrete floors into brilliant, easy-clean, environmentally-friendly and durable polished concrete. That's why Concrete Polishing of Northern Colorado transforms floor concrete from a dusty, porous and boring surface to one of strength, longevity and beauty.
Owner Operated. Free On-Site Sample
Best Concrete Polishing in Fort Collins, Loveland, and Greeley Areas
Having concrete floors might seem bleak and boring. But did you know your floors can be turned into something beautiful and practical at the same time?
Owner Operated. Free On-Site Sample
rELIABLE Concrete pOLISHING Services
With over 15 years in the construction industry, we recognize the care and pride you have in your home and place of business. The preparation of your concrete floor is of highest importance in ensuring the finish will be durable and long lasting. You can be sure we will do our best to make the floor beautiful by preparing the raw concrete to its best potential before polishing.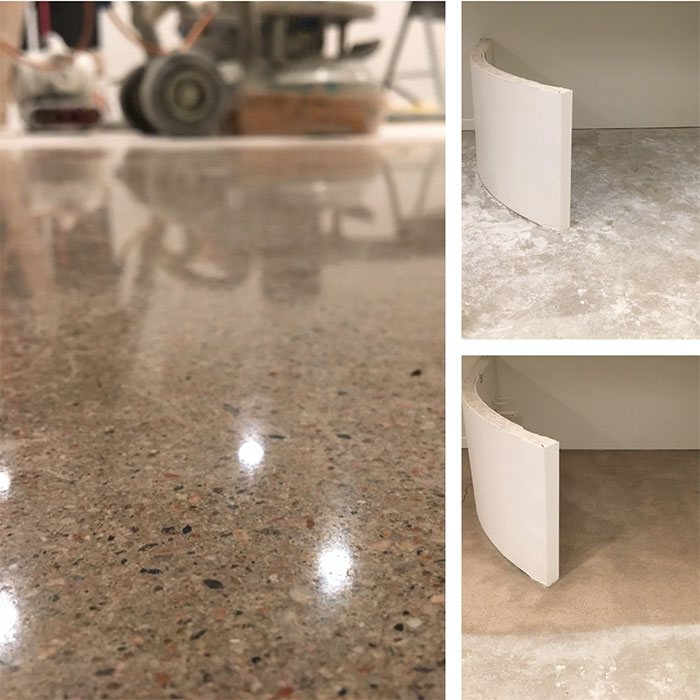 That's what it's all about! When concrete is ground, honed, and polished it is amazing what beauty and life emerges from a very plain looking floor. The variation in aggregate and cement color pops out and simply shines. The polishing process includes applying a densifier that hardens the concrete surface so that it is super durable and can be polished to a very high gloss.
Natural concrete has incredible inherent beauty when polished, but in some applications it is more attractive or suitable to be colored. A basic color will bring more uniformity in the tone of the floor and may help to disguise patches if so desired. For a small up charge you can color your floor to suit your space.
Let Us Bring Your Dream Floor To Reality
Can any concrete be polished?
Almost. Usually, yes, this can be achieved. However, there are a few situations where polishing new or existing isn't ideal. For example:
Floors made of lightweight concrete isn't the best candidate for polishing
Concrete which has been damaged by caustic chemicals
Outdoor concrete made with a freeze/thaw mix shouldn't be polished
Does the polishing process disrupt business and how long will cleanup be once it's complete?
In most cases, there is very little cause for concern during installation. We can work around your schedule, during downtime periods and off hours, and we ensure that your space is left as it was found (with the addition of an enhanced flooring solution.) We prefer a dry-grind polish procedure, in which all the resulting dust is immediately vacuumed up by a system within the polishing machinery.
Is polished concrete eco-friendly?
Absolutely! In fact, polished concrete is arguably the most eco-friendly commercial flooring solution you could install. Concrete is a natural surface comprised of rock and water. Plus, it's frequently recycled, reducing your carbon footprint. The durability of polished concrete means it lasts longer than most products and results in less waste overall which is why it's sought after for green-building requirements. Its reflective surface saves on energy costs and is compliant with all LEED  or Excavation Sherbrooke standards.
How stain-resistant is polished concrete?
One of the disadvantages of polished concrete is that it's not as stain-resistant as epoxy or urethane coatings. While additional sealants protect the surface, unfortunately, the porous nature of concrete will mean it's always somewhat susceptible to staining or other damage from spills – particularly if they are left standing. To prevent staining, clean any moisture or spillage immediately after it happens.
How slippery is polished concrete?
You might be surprised to learn that while shiny in appearance, polished concrete isn't a very slippery surface at all. It only looks slippery because of its high reflectivity. In reality, the concrete still has a very bumpy surface, at the microscopic level. This gives it superior friction coefficient even when wet. It's actually less slippery than many other common flooring options which is why it's so popular for corporate lobbies and entryways.